Guide ID can provide a standard survey which you can add to your tour.
It is one Stop and contains the following content;
---
Standard survey content
Thank you very much for visiting. We would greatly appreciate it if you would take a few moments to answer a few simple questions. This will take no longer than 2 minutes.
Press any button to start
1. What is your gender?
Press A for male
Press B for female
2. What is your age?
Press A for 20 years or younger
Press B for between 21 and 50 years
PresC for 51 year or older
3. How far did you travel to visit the museum?
Press A for less than 20 kilometers
Press B for between 20 and 75 kilometer
Press c for more than 75 kilometer
4. How did you become aware of this exhibition?
Press A for via the internet
Press B from family, friends or acquaintances
Press C for other media
5. How would you rate the exhibition?
Press A for excellent
Press B for good
Press C for average
6. How would you rate the content of this audio tour?
Press A for excellent
Press B for good
Press C for average
7. How did you find the use of the handset during the tour?
Press A for very easy
Press B for easy
Press C for complicated
Thank you for you participation. Your feedback is very much appreciated and will be used to improve our visitor services. We hope to see you again soon!
---
The standard survey is available in 6 languages; Dutch, English, German, French, Spanish and Italian.
If you would like to implement it in your tour you can contact us at helpdesk@guideid.com and let us know. We will then send out an IDentifier (with a survey label) for you to connect to this new stop. Or you can connect a spare IDentifier you already have. 
Once the survey is in use at your museum, you can view the visitor answers in your Analytics using the "selected options"
Adding your own Survey
Like any other Stop, you can also create your own survey and add any question and answer possibilitie you wish. You can build the right structure in a Stop using the Clip flow editor. (Click here for more information about adding and editing clips in a Stop). Tip; make sure you do not add more then 7 questions (preferably 5) because we know from experience that visitors don't have the patience to answer the whole survey when asked more questions. 
The right structure for a survey in your Stop should be;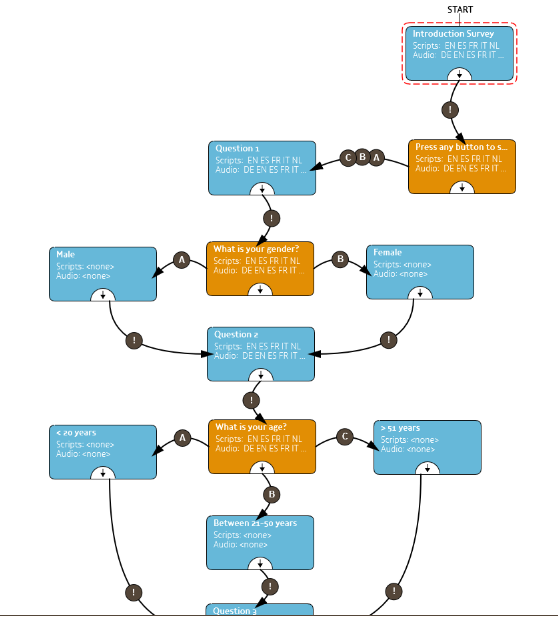 As you can see in the picture above, it's important to separate the question (blue clip) and the answer possibilities (orange clip) in two separate clips in order to keep the functionality of the volume and pause/play buttons available when the question is being played. Also always add a short description of the question in the clip title that plays the answer possibilities (example; what is your gender?) and in the clip title of the A/B/C choice clips (example; A = male)
At the end of the survey you can connect the last A/B/C clips to an end message.